This is a very good site to visit!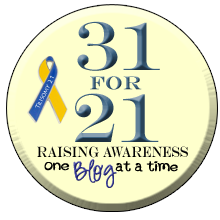 The 6th Annual 31 for 21
Challenge.
To raise awareness f

or
National Down Syndrome Awareness Month! My youngest daughter has both Down's Syndrome and
Autism
. She is almost 29 years old, and doing great. We've been blessed with very understanding and helping family and friends. One of the proudest days of my life was watching her walk across the stage to receive her high school diploma. Even though the Autism made her very shy of crowds, she found it within herself to go up there.